News
Discover Primary Science and Maths Award 2017
Well done to all pupils on being awarded the DPSM  plaque of Science and Maths excellence for the fourth year running.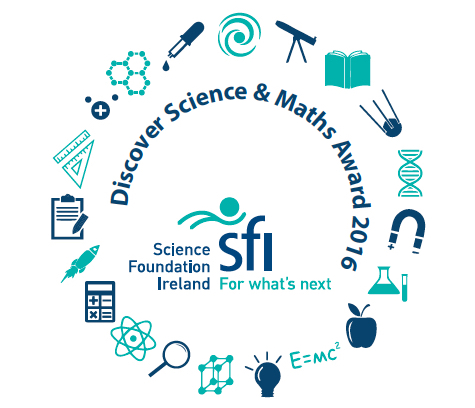 Blue Flag for European Studies 2016/2017
The school was achieved the Blue Flag for European Studies in the 2016/2017 school year
Primary School Debating Competition
Pupils participated in the Inter-Schools Debating Competition organised by Laois Education Centre again this year. St Paul's were the overall winners for two years in a row (2015 and 2016).
Art Awards 2016-2017
In the 2016/2017 school year pupils achieved awards in the Mountmellick Credit Union Art Competition, Mountmellick Drama Art Competition and the Junior Painter of the Year Competition.
National Dairy Council 'Moocrew' Art Competition 2015
Artwork submitted by first and second class pupils resulted in them winning an overall prize in the National Dairy Council Art Competition. The school was awarded with a free trip to Causey Farm in Navan, €1,000 worth of sport's equipment and a coaching session with Derval O'Rourke, the Olympian athlete. Everyone had a fantastic and memorable time at Causey Farm. Well done to the competition winners!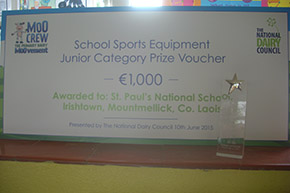 Write a Book Competition
Well done to all the pupils who wrote books in the Write a Book Competition. It is a great achievement to be an author. Pupils collected their awards at the Awards Ceremony in the Heritage Hotel, Portlaoise on Thursday 15th June. Well done one and all.
Scríobh Leabhair Competition
Well done to all the pupils who wrote such wonderful Irish books.  An awards evening was enjoyed in the Heritage Hotel in March.
Active School Flag
This year, St Paul's N.S. is actively working towards attaining our first Active School Flag Award.
This will be achieved in a number of ways including; increasing levels of physical activities in our daily lives, creating links with sporting agencies and looking at specific areas of the P.E. curriculum and ensuring that all aspects of the curriculum are being taught.
The main goal of participating in this scheme is that a sense of health, well-being and physical activity will continue to be fostered in our school.
Postal Bible School Prize-giving
The school was delighted to welcome Noel and Liz McMeekin as well as parents and friends for the Postal Bible School Prize-giving on 5th April.
Schools Admission Bill
The school made a submission regarding the School Admission Bill to the Minister for Education and was represented at a meeting held in Croke Park on Monday 29th May.